Welcome to Holsteinshus B&B
The dream of a Bed and Breakfast is one that has been a long time coming, and in 2020 it finally became a reality - and we look forward to welcoming you.

Holsteinshus B&B is run by us, your hosts - Susanne and Steen, and our four-legged companion, Cato the Labrador.
We look forward to welcoming you to Holsteinshus B&B!
It will generally be Susanne you meet when you visit Holsteinshus B&B. She works from home and is therefore the most stable contact person on the address.
She will welcome you, give you a key to your room, show you around and tell you how Holsteinshus B&B works.
She is also the one who prepares the delicious breakfast for you and who you can contact if you have any questions or concerns.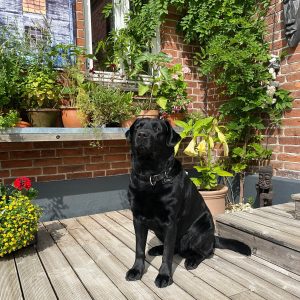 Cato is our sweet Labrador and the family's happy go lucky. He is very social and loves everyone - both humans and dogs who want to play in the garden. 
He rarely barks, loves to be petted and played with, and if you drop a crumb while eating breakfast, he's on the spot immediately.
Of course, if you're not a dog lover, we respect that you'd rather not have to say hello to him.
Steen is the one in the family who works the most away from home, often driving around the country to take care of his customers, but he's often home in the mornings and evenings.
He also has days where he works at home in the office, so he may sometimes be the one to greet you when you check in to your room.
He's always good for a chat and is happy to help if there's anything you're unsure about.
Steen has previously owned a B&B on Fyn and is therefore the most experienced B&B owner in the family.
To keep our B&B neat and clean, we have our skilled and always smiling cleaning assistant, Wori. She is absolutely indispensable for keeping the place looking the way it does.
Dreaming of a more sustainable future
We have an ambition to think more about the environment and sustainable solutions. That's why we as much as possible only use cleaning products marked with the Nordic Swan Ecolabel and detergent with the Blue Wreath from Asthma-Allergy Denmark. Our breakfast is also made with organic products whenever possible.

We have taken these steps to incorporate sustainable and environmentally friendly solutions so that we can work towards a more sustainable future.
Ready for your next vacation?
We look forward to hosting your next vacation in tranquil and charming surroundings in the heart of Odder.
Holsteinsgade 17 
8300 Odder